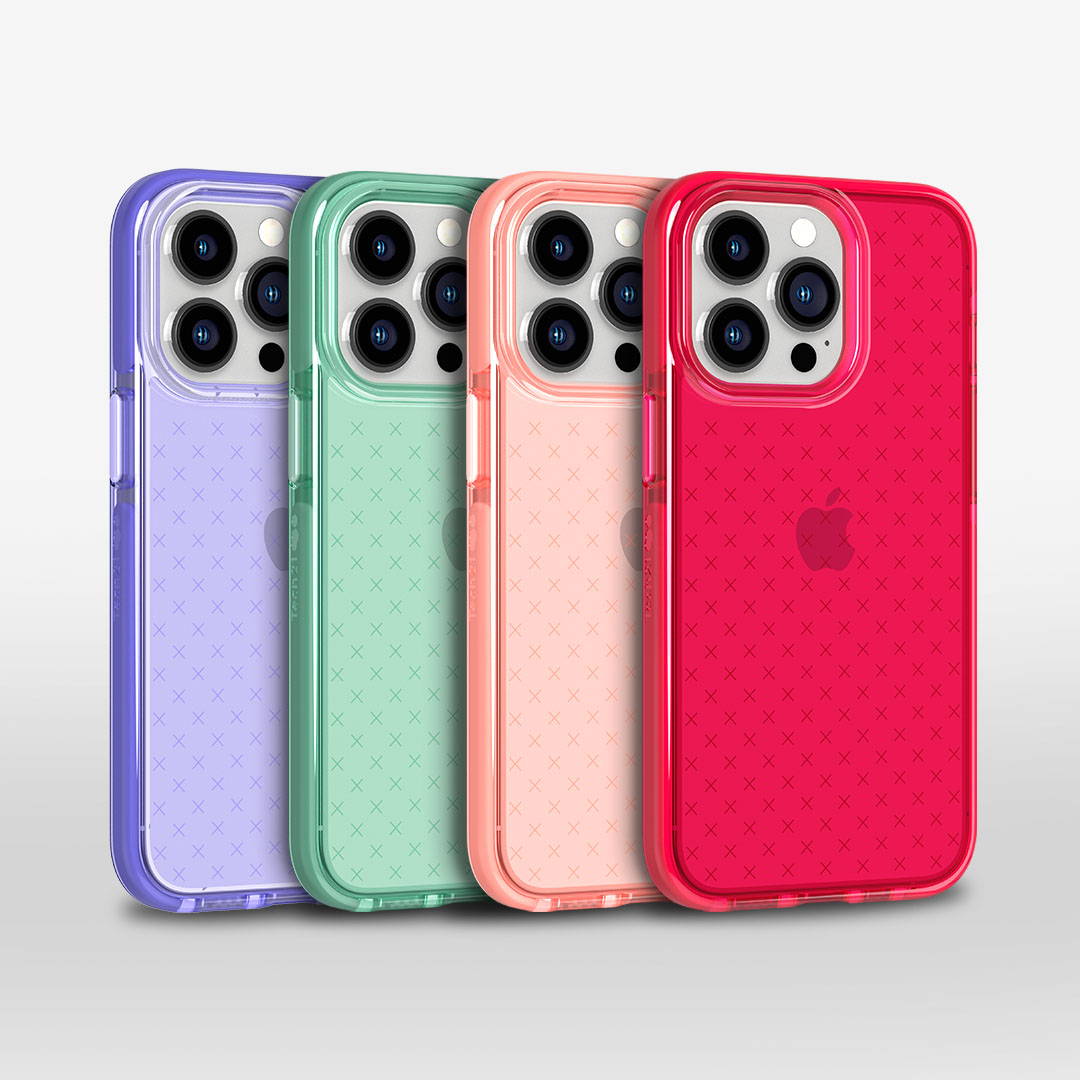 BRIGHTEN UP YOUR iPHONE 13 WITH A NEW TECH21 CASE
You've now got a new iPhone 13 and are enjoying making the most of all the new features on offer but have you given it the best protection in the universe? Tech21's iPhone 13 case selection is our most protective yet – with many of them featuring increased levels of multi-drop protection thanks to an innovative blend of science and design.
While we develop impact materials that are ready for anything and everything the galaxy throws at them, we're also fully focused on the patterns, artworks and colours of our cases – what's the point in having a brand new iPhone 13 if the protection doesn't complement it, after all? That's why we're excited to present a new selection of colourful iPhone 13 covers.
Our brand new Evo Max cases not only outperform the bestselling rugged cases on the market but they also come in a choice of two colours - off black and khaki grey. Perfect for anyone who works outdoors or likes to go on long hikes, this extra-protective case also includes port and camera covers in these subtly appropriate colours. Evo Luxe is another new addition to our range and this premium case – made from a quality faux leather material – comes in a choice of either stylish off black or sublime dusty pink.
NEW COLOURS FOR A NEW EVO RANGE
We're especially thrilled about the new colours featured in our Evo Sparkle range. Who wouldn't want a rose gold, silver or gold tint on their favourite device? For those who love convenience, Evo Wallet, with its space for two cards, does the job while Evo Tactile is a more grippy case.
We know you love colours and we're excited to offer some new choices alongside the ever-popular blue and black phone cases featured in our Evo Lite (previously Evo Slim) range. These thin and lightweight cases are easy to take on and off and now come in on-trend colours including cool grey, sunflower yellow, dusty pink and classic blue – the Pantone Colour of the Year 2020.
We've also fallen in love with our new Evo Sparkle cases – the iridescent effect on our original case is now joined by new designs featuring glittery speckles in smart silver, gorgeous gold and exquisite rose gold. Meanwhile, our new Eco Art designs are inspired by nature… Which eco-friendly iPhone 13 case will you choose? The Delicate Earth Green or Frog design. Both are stunning – and hand painted by our very own team. We also offer new pastel colours in our Eco Slim range – all inspired by the latest trends and the environment – meaning you now have the choice of mushroom grey, misty violet, soft mango and mint green.
ON-TREND COLOUR PHONE CASES

Evo Check will always be our signature case and we're excited to add some new choices that complement the latest iPhone 13 colours to this year's range. Now with improved up to 16ft drop protection and our subtle yet iconic check pattern fully on display, we've now added colour choices in cool coral, luscious lavender, sublime sage green and rubine red – a hot pink-meets-magenta tone that will be a favourite with any designer you know…
Last but not least is our Evo Lite selection. Previously Evo Slim, these soft and lightweight cases come in traditional colours including black and classic blue (the Pantone Colour of the Year 2020, no less), dusty pink, cool grey and sunflower yellow – something that will brighten up your tech as we head into the winter months – in the UK and USA at least.
We hope you enjoy the world of colour that comes with our latest iPhone 13 covers. Please do let us know over on our social channels if you have any colour requests for future cases.