TECH21'S SAMSUNG GALAXY S21 CASES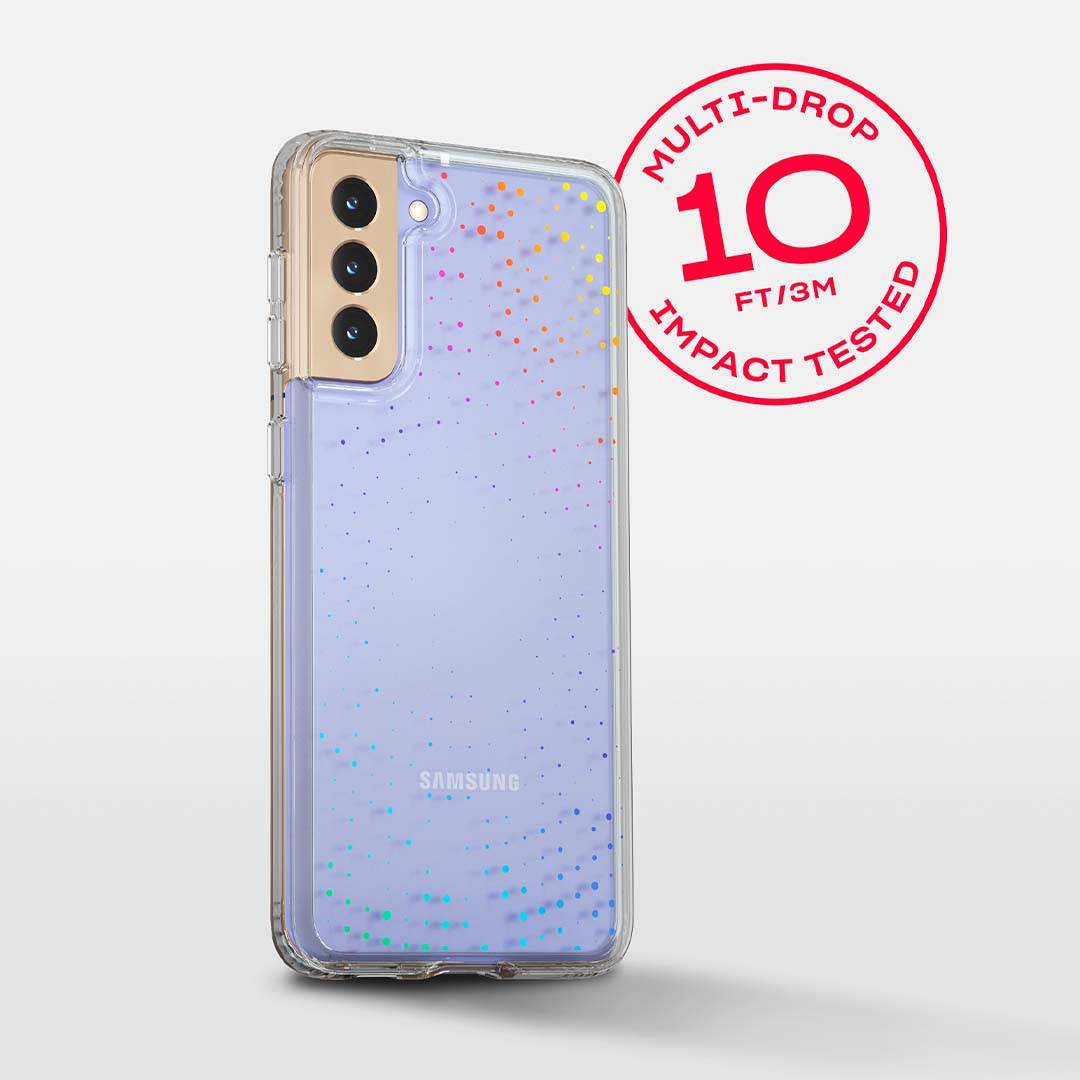 S21 PHONE CASES WITH THE TOUGHEST MULTI-DROP PROTECTION AROUND
The world of tech never stands still and Samsung have pushed the boundaries once again with their range of Galaxy S21 5G devices. Of course, Tech21 has all the epic protection you need for these new Android smartphones.
With their protection against multiple drops, our Galaxy S21 cases are perfect for everyday use. Whether you drop your phone while out on a walk, run or bike ride, you can rest assured are scientifically proven materials will absorb all the impact and keep your precious device safe and secure. Our team have also worked closely with Samsung to ensure that every element of your phone is protected – including that all-important camera.
Exclusively available direct from Tech21, Evo Sparkle is an iridescent S21 case with a shimmering holographic effect. A stunning case to look at, its hard-working formula protects against scuffs, scratches and drops up to 10ft while it also has a special UV-resistant coating to guard against unsightly yellowing.
Our selection of S21 covers also includes the innovative Evo Check. This Samsung case offers incredible levels of impact (12ft) and hygienic protection as the in-built formula reduces microbes by up to 99.99% within 24 hours. It's also easy to apply and has interchangeable buttons.
The Evo Clear Samsung S21 5G case is totally transparent, letting owners enjoy the original design of their device without fear of it discolouring or yellowing, while Evo Tint adds a cool carbon shade.
We also have Evo Slim cases for the more casual phone user. These non-slip yet super-stylish Galaxy S21 covers protect against drops up to 8ft and have easy-to-press buttons. Evo Wallet is a case with a focus on convenience. It has a pocket for two bank cards, a secure clasp and hands-free stand function for all your binge-watching needs.
SCRATCH-FREE S21 SCREEN PROTECTORS